At 10-Vines the Grands Crus of Burgundy go under the spotlight for Christmas. Time for a little refresher course with our oenologist, Béatrice Dominé, who will reveal all you want to know about the great wines of world-famous Burgundy, a leading light among the winegrowing regions of France.
---
Chambertin, Bonnes-Mares, Romanée-Conti, Corton and Montrachet are appellations that remind us just what can be achieved in the prestigious vineyards of Burgundy. With their well-established worldwide reputation, these Grands Crus are truly the stuff of dreams.
The rarity of these Grands Crus only increases their appeal. Indeed, Burgundy has 33 parcels of Grand Cru vines which spread across just 560 hectares and account for barely 2% of the region's wine production. These parcels are split between 3 sub-regions where the prestigious Grand Cru label is carried by no more than 12 villages, mostly in the Côte de Nuits vineyard.
Breakdown of appellation levels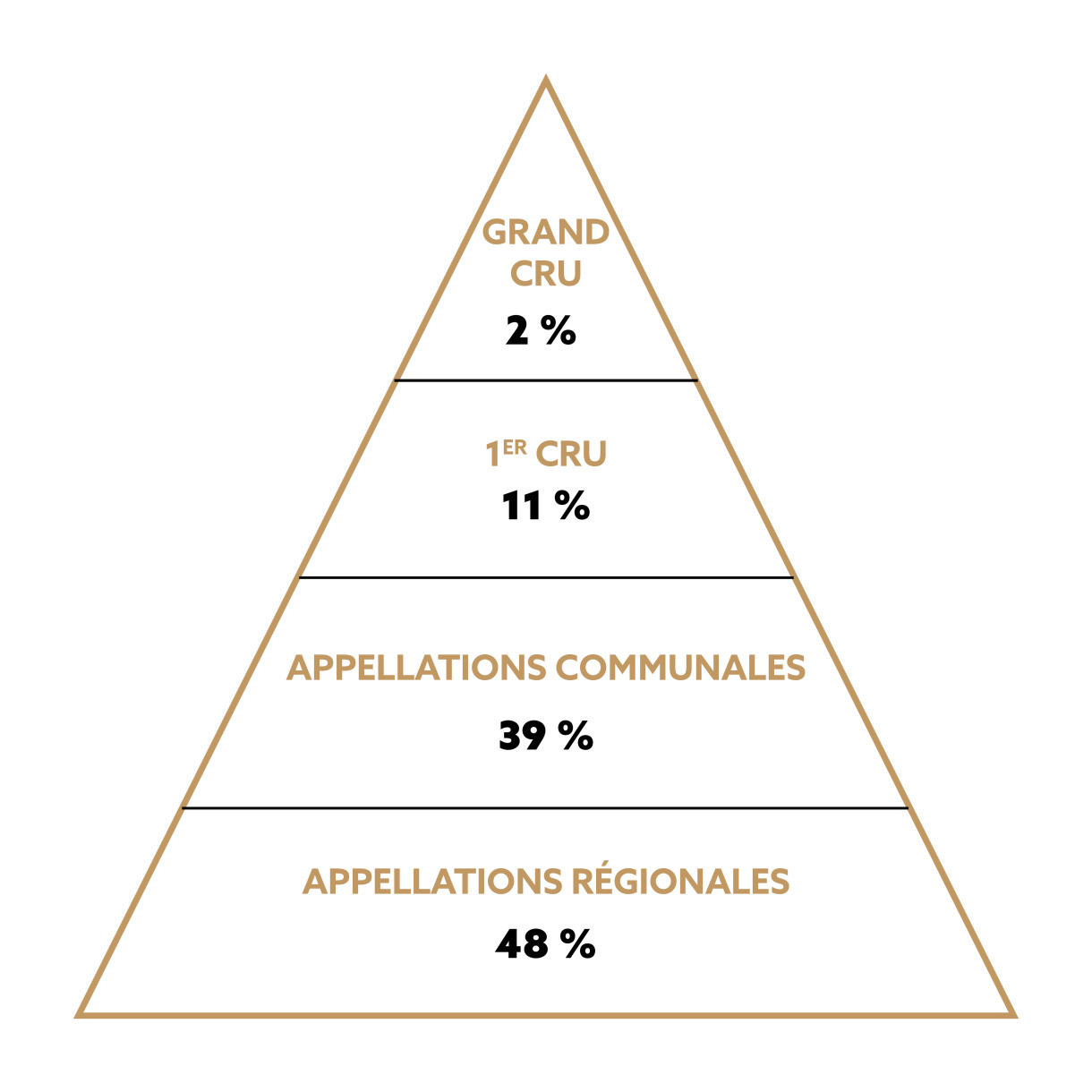 Varietal characteristics
One of the distinguishing features of these Grand Cru wines, of which the majority (61%) are red, is that each is made from a single grape variety.
Chardonnay
Pinot Noir
Wine types
Dry white wines exclusively
Red and rosé wines
Colour
Pale yellow with tints of green or gold
Ruby fading to rosé at the edges
Aromas
Fruit: apple, lemon, pear, white peach, stewed rhubarb, pineapple and greengage
Floral: acacia, honeysuckle, lime tree, violet, bracken and privet
Empyreumatic: smoked and grilled aromas, hazelnut, almond, toast, and vanilla (oak barrel)
Berry fruit: strawberry, raspberry, red-fruit jam, cherry, Kirsch, elderberry and cranberry
Roasted and spicy aromas on ageing: cinnamon, coffee, liquorice, cedar, vanilla, tobacco, chocolate and pepper
Today, 4 of the 33 Burgundy Grands Crus are available with 10-Vins: Corton, Bonnes Mares, Chablis and finally Corton-Charlemagne.
Learn more about D-Vine's selection.
---
To find out more